How to get started, including onboarding requirements and timing, deliverables, pre/post-launch support & additional onboarding services
Launching Your Project with Avesdo
Onboarding Requirements & Timing
Before we begin onboarding a new project, your Sales Advisor will send you a contract and quote that requires acceptance. Once this has been completed, an official kick-off email will be sent to you by your dedicated Client Success Manager.
Avesdo requires 5 business days in advance of the first Selection/Worksheet event (or the launch date, whichever is earlier) to set up a site that does not require Architectural Controls (non-AC project setups typically include condos and townhomes)

If Architectural Controls are required, we need 10 days (AC projects may include some townhomes and also single family developments)
Note that Avesdo must receive all final assets before these time frames begin (refer to the chart below for project-type specific deliverables)

QA & Project Certification: Given that activities performed in the Avesdo platform will form a legally binding contract between the developer and the purchaser, we adhere to strict quality analysis protocols to mitigate your long term risk
Deliverables
Avesdo offers clients with everything they need to launch a project, from Leads through to Close, including deposit management and API/data integrations. Here is a list of all of the key deliverables required to launch a project.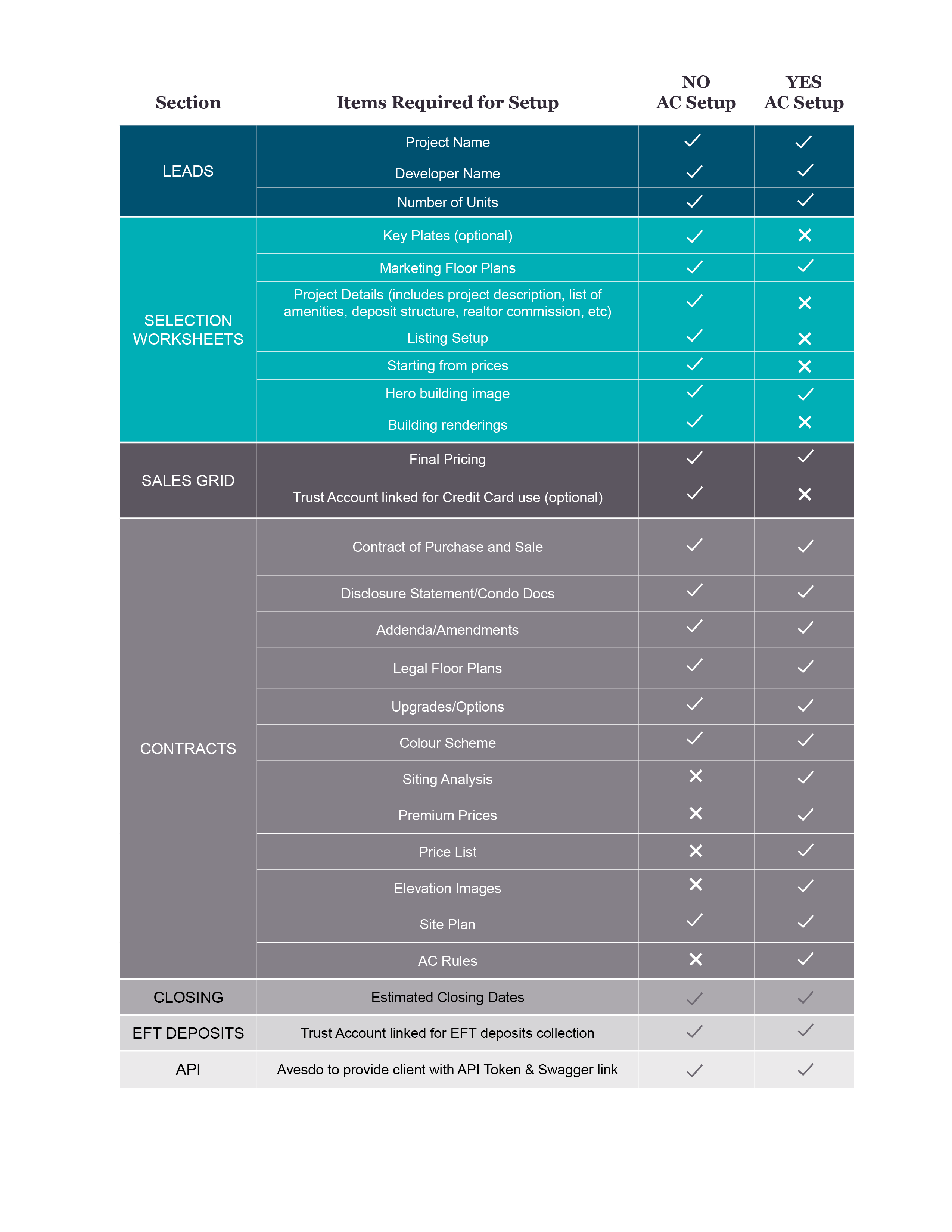 Pre & Post-Launch Support
General support
Support is available Monday through Friday from 9am-9pm EST (6am-6pm PST)
Requests for assistance will be responded to within a timely manner during these hours, on a triaged basis
Requests are at the latest responded to within 24 hours
Note that weekend support is available on Saturday and Sundays from noon to 9pm EST (9am-6pm PST)
The Support Team can be contacted by email or phone:
Urgent requests
A ticket is considered urgent if it fits the following criteria:

The issue is affecting your ability to complete a Contract
The issue impacts your use of Selections/Worksheets or Allocations
The issue impacts a project from launching

For such urgent items, please call the Support phone number listed above during our business hours, or, reach out directly to your Sales Advisor or Account Manager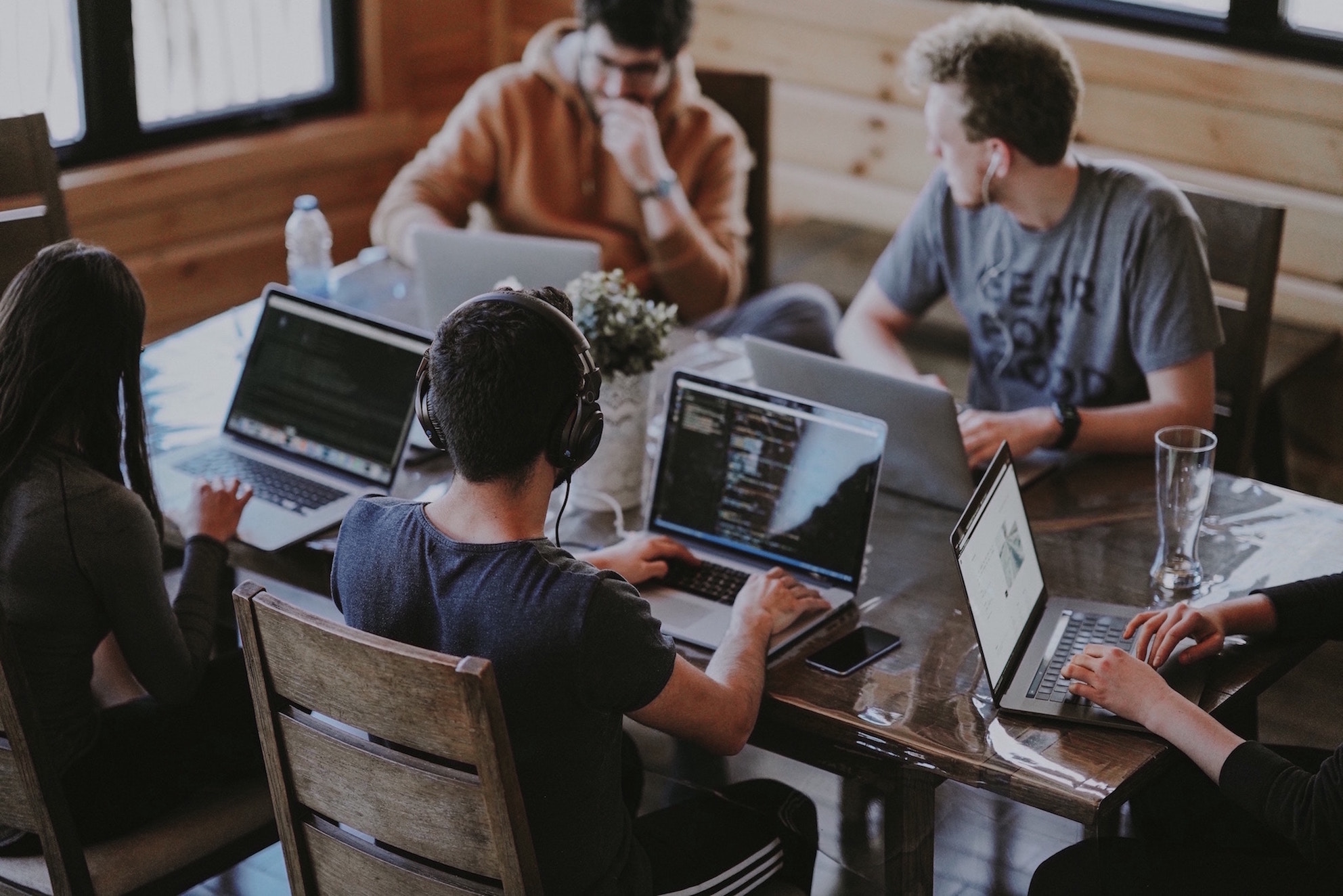 Additional Services
One of Avesdo's main priorities is to ensure your projects launch successfully, without stress or delay, and involving as much support on the tech & advisory side as needed.
With this, we offer two onboarding services:
Expedited launch service
We understand that timelines can change quickly in this industry. This means that if a project is required to launch in less than the minimum number of days required, Avesdo offers an expedited launch service. This service enables a site to be set up, tested, signed off on, and released in:

Less than 5 business days from launch for non-AC site
Less than 10 business days from launch for an AC site

Clients will work with their account representatives and the Support team to identify timelines as early as possible to determine all available options.
Dedicated launch support
Avesdo offers and highly recommends this dedicated service to provide immediate assistance and support for clients during a launch of a project. The type of support required is predetermined based on the client's needs. The support offerings can be technical or strategic, or a mix of the two. The Avesdo support team member assigned to the Dedicated Launch Support is based on what is required. This person may be a CSM, the client's Account Manager, their Avesdo Advisor, or a combination of the three.
This service is available:

Remote via Zoom: A dedicated member of the Avesdo Support team will be available during the committed hours to provide immediate virtual assistance
In Person: A dedicated member of the Avesdo Support team will be at the launch of the project in person to provide any assistance as required during the determined hours
For more information or if you have any questions, reach out to the Support team, your Sales Advisor, or your Account Manager. For general inquiries, you can contact info@avesdo.com.